Reggae Legend Mykal Rose
For over 25 years, Michael Rose has been recording and performing his brand of militant, hardcore Jamaican music to the delight of reggae fans around the world. As a solo artist, with Black Uhuru, and back as a solo artist, the "Ruff" Rose has achieved great success throughout his career, even as different Jamaican musical styles have phased in and out of popularity.


Perhaps the highest profile recognition came in 1984, when Michael Rose and the other Black Uhuru members (Duckie Simpson, Puma Jones, Sly Dunbar, and Robbie Shakespeare) won reggae's first Grammy award for the album, Anthem. But the story doesn't begin with Black Uhuru. In 1976, Michael Rose was already a seasoned performer, having honed his skills by performing on Jamaica's hotel circuit. When an early incarnation of Black Uhuru (Ducky Simpson and Errol Nelson) approached Michael to join the group, he already had several solo singles to his credit. These include the original "Guess Who's Coming To Dinner" and "Clap the Barber," both recorded for producer Niney The Observer, and "Running Around" for Winston Campbell.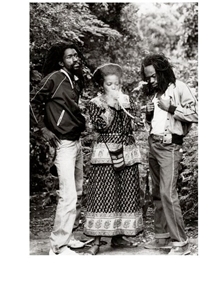 Black Uhuru's first full length was released in 1977 and called Love Crisis. It was produced by King Jammy (then Prince Jammy), and the big hit of the album was "I Love King Selassie." But it was not until the Showcase album was released in 1980-with a new lineup of Michael Rose, Duckie Simpson, and Puma Jones-that Black Uhuru reached their creative peak. Heartbeat reissued the set on CD (Guess Who's Coming To Dinner, HB 18), which includes the massive 12" singles "Shine Eye Gal," "General Penitentiary," "Plastic Smile," and of course, "Guess Who's Coming To Dinner." At the forefront of the recordings and live shows was the charismatic Michael Rose, who had incredible stage presence and a vocal style all his own. So popular was his trademark sound that singers like Don Carlos, Junior Reid, Yami Bolo, and others embraced it as the "Waterhouse" sound.

Throughout the first half of the 1980s, Black Uhuru continued their success with albums on Island Records-Sinsemilla, Red, Chill Out, and Anthem, along with compilations, dub albums, and live albums. They became the best-known reggae act since Bob Marley, and won the first reggae Grammy for Anthem in 1984. Even today, Island continues to capitalize on the group's success by re-compiling and re-releasing the group's Island years material.


With lead singer Michael Rose seemingly at the top of his game, he parted ways with Black Uhuru, with the intention of redefining his musical direction as a solo artist. In the early 1990s, Michael Rose suddenly appeared on the scene with new material including Jamaican singles produced by Sly & Robbie ("Monkey Business," "Visit Them," "One a We Two a We"), and three albums (Proud, Bonanza, and King of General) released in Japan.

As a solo artist, Michael regularly tours the U.S. and Europe, and has maintained his Jamaican fan base with hit singles on the island and abroad. He is a modern roots singer, and fits perfectly into today's scene. With a glorious past and a wide-open future, Michael Rose is truly a reggae superstar. By the time Mykal Rose (then Michael) became a member of Black Uhuru in the late 70s he had already made a name for himself by winning talent competitions opening for Roberta Flack and performing with Skin, Flesh and Bones at Dicky Wong's famed Tit for Tat Nightclub Red Hills Road, in Kingston in the early 70s. Mykal like so many artistes of the day grew up playing more R and B in clubs than reggae. Mykal honed his skills playing the north coast hotels; these were the days of the show bands, Happiness Unlimited, Fab 5, Inner Circle, Boris Gardiner Happening, "those were interesting days, I remember Fab 5 had a hotel residency; we went in to cover them for a weekend and left with an 18-month contract," he said. This month hot from the west coast Mykal kicks off his 2018 world tour in the UK with a series of dates reprising his Black Uhuru songbook. The veteran singer-songwriter will be bringing his unique Grammy award-winning voice to a town or city near you and performing the hit songs he penned during the late 70's and early 80s. Mykal joined Black Uhuru in 1977 having already made noise touring and with "General Penitentiary" he and Puma Jones had effectively replaced Don Carlos and Garth Dennis and changed the dynamic of Black Uhuru. Mykal had worked with Sly in their earlier days with Skin Flesh and Bones, so the vibe was a consistent one when Sly and Robbie's put their distinctive sound to Mykal's lyrics and lead vocals resulting in the recording of a slew of successful singles, including "General Penitentiary" a re-recording of Rose's solo hit